by: Jasmin Corona, Cindy Gonzalez and Miguel Verduzco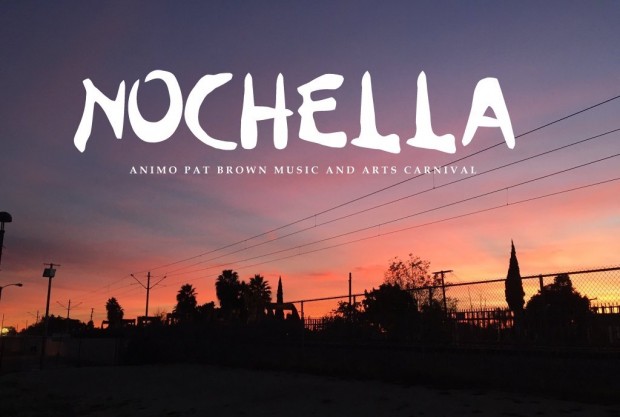 Friday, April 15, APB had their first music and arts carnival, Nochella. It was a very successful carnival. There was the classic dunk tank, musical performances, actual carnival games, a jumper and of course food. This was the first year the carnival extended its hours from 1:50 to 4:00 and opened up to outside guests.
Music performances made the carnival feel like an actual music festival. We can't forget the amazing tacos and classic snow cones that were provided. The bohemian theme was really creative and the festive decorations added flare to the carnival. It was interesting to see Student Council have creative ideas that top past carnivals.
APB teacher, Mr Pickering was one of the special performers. He says that, "it was fun and the students were very supportive. My favorite part was watching Hartford out of his principal position and rocking out".  He would like to do this again if the students ask. He adds that, "Seniors alway do a good job standing out from past carnivals". Something he says would be better would be kids getting into the carnival. They get into it til the last 15mins.
APB teacher, Ms. Roselman was also a special performer. She says, " I was very nervous but it was cool watching people get on stage and share their talents". "Pickering and Hartford had a great set, it was cool watching my co-works on stage", she adds. She also adds how it felt like an actual music festival and the decorations were amazing. Something she says she would change would be having Hartford in the dunk tank.
APB junior, Ismael enjoyed the carnival very much. He says," my favorite thing about it is the dunk tank but i wish more teachers volunteered to  be in it". One thing he adds is," the taco line was too long and the carnival felt kinda cramped". He just wishes different teachers would become targets at next year's carnival.
Student council enjoyed putting this carnival together. Although it was, successful, they were some challenges they faced. Student council members, Daisy and Anthony said, "it was very hard and stressful. We had to pick up stuff from Gardena since it was donated to us a day before the carnival: we didn't even have time to eatl". They also add, " setting up and planning it was difficult since they all couldn't agree". They hope to have better communication next time and plan ahead.
APB looks forward to the future carnivals student council has to offer.