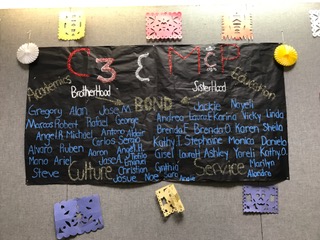 By: Yamileth Osorio and Paulina Pacheco
APB had its first cultural dance with live music presented by C3, Caballeros con Cultura and McP, Mujeres con Poder which featured performances by Groupo Nzalad and Banda Los Parranderos. Mr. Sandoval and Mr. Ramos, founders of C3, are both very excited to be organizing this dance. Not only are they hosting a dance, but they also invited families to come see the dances students choreographed.
"I hope to see the families together as one big APB family." Ramos says. "They were bringing something new since APB has only hosted hip hop dances."
Sandoval also hoped students and families have fun and enjoy the live music and a successful night.      
Not only are the teachers excited, the excitement is see in students aswell.
"I'm glad we are having a dance with Banda and Grupo." Eleventh grader Jacky Mares says. "It allows us to express our culture in our school."
When comparing these dances to Student Council dances people bring up the $8 price. Some students say it's a bit too much. However,  most agree it is a good price for both Banda and Grupo. The price was a factor for causing some hesitation. An anonymous student says "I will not attend because the price is too high". Although there are other students that feel this way many tickets were sold that night was APB had  a packed gym . Most students that attended had a positive experience.
" I enjoyed the dance, the atmosphere felt like I was at a party" 11th grader, J. Felix Pacheco said. Felix referred to it as "the best dance APB has had by far."
In all, the dance was a success as President of MCP, Linda Donis mentioned that the dance produced over $3,000 with more than 200 people attending. With this money they were able to pay for the bouncy house, the grupo and banda. With the rest of the money, C3 and MCP will enjoy a 4-day, 3 night camping trip at the Santa Monica mountains. Overall it is seen that APB students enjoyed the event and that the cultural dance was a success. Most student say they hope to have another event like this soon.