By: Londy Hernandez, Jesus Avina, Axlin Lucio, and Magdalena Montero
"You feel an eerie feeling. When you step into the classroom you feel heavy like if someone is pushing you out of the class" said 11th grader Erika Aguilar about walking into a classroom. She hasn't been the only one. As you walk pass the hallways of the school, do you ever feel the presence of something walking besides you? Maybe you noticed that a room or a significant place is colder than other places. There has been many rumors about a ghost that wanders through the hallways of our school. As you walk through the hallways, many have noticed, and clearly pointed out, that APB has once been a factory. What many don't know is that it was once a furniture manufacturer, known as Vargas Furniture Mfg, according to the 1987 Los Angeles city directory, that may be haunted.
Students have speculated that Mr. Snyder's classroom is where the ghost wanders most, said 11th grader, Jordhan Soto. Jordhan, however, is not alone. Government teacher, Mr. Snyder, said his classroom has been rumored to have been this ghost's home since he's been at APB — since the first graduating class nine years ago. His classroom, room 24, is said to have been the foreman's office who apparently hung himself, said Mr. Snyder.  
9th grade English teacher, Ms. Espiritu, has only heard about objects being moved around the Day of the Dead altar last November. She also adds that she is not afraid of there being a ghost in the school.
US History, Mr. Sandoval, said, "When I first got here, Mr. Johnson [a former staff member] told me…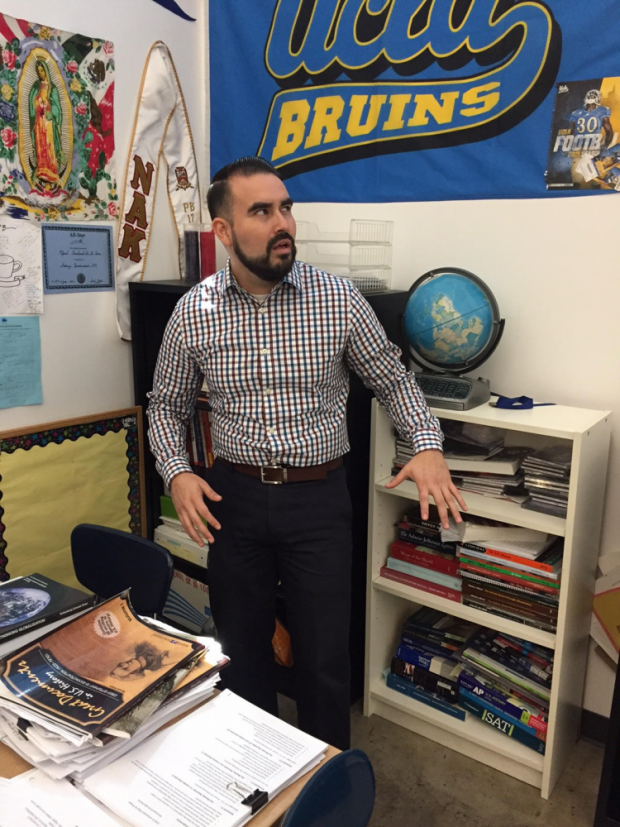 that there was a ghost here" At first, Mr. Sandoval didn't believe him, until Mr. Johnson told him a story: "One time he was at school alone with one of the janitors and out of nowhere they just hear a loud crash and they ran over to see what it was — they thought it was someone just trying to get into school — and it was just those dividers that had fallen over. They went to look at the cameras to see what had caused them to fall over and [Mr. Johnson] said that they were standing still and at the next moment they had been pushed over to the other side of the hallway and were laying on the ground."
On the other hand, some are skeptical of its existence. Chemistry teacher, Ms. Roselman, believes that there is no ghost here at APB, she has never witnessed anything in her four years here. Ms. Roselman isn't the only one who doesn't believe in the ghost 12 grader Ricardo Galindo has never heard about the ghost.
Nevertheless, many enjoy the tale of the ghost of the dead foreman, including Mr. Snyder, who says he "likes to keep the mystery alive."