By: Shirley Zavala and Jose Mendoza
It may seem that the 2020 elections are far away, but they are actually much closer than what people think. The next presidential election will be held on November 3rd, 2020. First, now is a good time to start thinking about who will run for all of the president positions, especially with the controversial current sitting President. If you haven't been keeping up to date with which democratic figures have talked about running, don't worry, we have you covered.
We decided to see if any students or teachers were keeping up with any qualified candidates trying to run for office. A few popular options are Kamala Harris, Beto O'Rourke, Corey Booker, and most recently, Bernie Sanders.
For instance,"Kamala Harris is a woman candidate, i like her a lot, she from California" states Mr.Cieply "I think we're ready for a woman candidate," and when asked why this presidential race should matter to people, he says, "I think it is very important specifically if you're a democratic, so that it is not 8 years of republican control"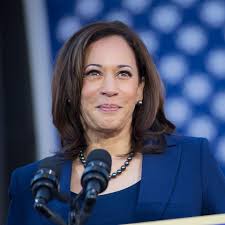 Sen. Kamala Harris
This sentiment is echoed throughout the halls of Animo Pat Brown's halls. As a predominantly latino school, the statements made by the current president Donald Trump against immigrants and people of color has made people more aware of, and willing to participate in politics. The way he disrespects minorities and actively offends them has caused an outpour of emotion from students, especially those with immigrant parents.
Finally, when asked about the voter turnout, Mr. Cieply says, "I think the last four years have motivated people to come out and vote, especially a lot of young people"
And this statement could not be more accurate. On February 19, 2019, Bernie Sanders announced his running for president in the 2020 election. Within less than 24 hours, his campaign was able to raise roughly 6 million dollars. A large part of Bernie's supporters are younger citizens who have to deal with issues left behind by older generations like climate change, pollution, and increasingly high college tuition. This wave of support is only a small sample of what is to come next year in November.
Senior, Londy Hernandez who likes to keep up with politics said she likes Beto O'Rourke a potential candidate who has not yet confirmed if he is running.
When asked why she thinks Beto would be a good candidate she said,"I have mixed opinions about Beto, because he is a white man, and maybe we don't want a white man right now, as president, we have a history of not electing women. But I think because of how much he was able to turn Texas purple you can say that's kind of signifying of someone who can do good things."
What Londy means by turning Texas purple is that in the 2018 elections in his campaign for senate in Texas, even though he lost 48 to 51 to Ted Cruz a Republican, he was able to turn a large portion of Texas blue, where Texas is known to be a majority of Republicans. When you mix blue and red together you get the color purple, meaning that Texas is becoming more democratic.
Including 11th Grade Ap Language and English teacher, Ms. Edelman who had something to say about the potential candidates she might think are fit to run for office.
She said," Although she has a problematic past I think Pamela Harris would do a good job." She also said, "Personally I like Korey Booker.
Then, when asked about what are her expectations of voter turnout for the 2020 elections she said"I think voter turnout is often very low, but I hope that it inspires activists to really get people to go out and vote, especially groups who are underrepresented in voting." Consequently based on the last election there is no doubt that there was a surprise on the elected candidates, and we can only hope that more people go out and vote for the next election.
The full list of the most popular potential democratic candidates include:
Kamala Harris –
Elizabeth Warren
Beto O'Rourke
Bernie Sanders
Kirsten Gillibrand
Julian Castro
Corey Booker
Pete Buttigieg
John Delaney
Andrew Yang
Tulsi Gabbard
Marianne Williamson
We encourage everyone to stay updated and active on the people who are trying to run for president. As it will affect the country as whole for the next 4 years, especially if you are a person who was surprised that Trump was elected and do not agree with his beliefs or actions he has done as president. Including the two government shutdowns he caused all because he did not get the funding he wanted for his wall. If any of you want to see changes in the following years, stay updated and active in politics. Encourage others who are able to vote to actually go out and to  vote as it will benefit them, yourself, and the generations to come.