2020 was not the best year, what could make it any worse than it already was?
By Cody Medina and Francisco Serrano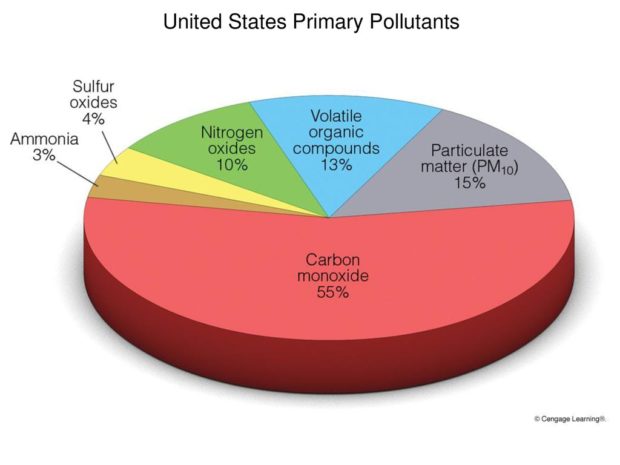 In 2020, Los Angeles had a total of 157 days where the ozone pollution-a harmful gas that is most commonly found in the atmosphere- was over the federal health standards, this is the most it has been since the mid-1990's.
According to the Centers for Disease Control and Prevention (CDC) "Factors that affect ozone formation include heat, concentrations of precursor chemicals, and methane emissions."
"Long-term effects of air pollution can last for years or for an entire lifetime. They can even lead to a person's death. Long-term health effects from air pollution include heart disease, lung cancer, and respiratory diseases such as emphysema. Air pollution can also cause long-term damage to people's nerves, brain, kidneys, liver, and other organs" National Geographic said.
In the beginning of 2020 everything started to look okay because it was hitting a 21 day stretch of smog free days.
According to a senior student at APB , "I remember hearing on the news that pollution levels had begun to decrease at the start of the pandemic." That all started to change as time went by, 2020 became one of the smoggiest in decades.
This increase in smog during the pandemic has weakened the respiratory system of many and made many more susceptible to the virus. According to the LA Times "there is some evidence that people living in the most polluted areas are more susceptible to COVID-19."
According to the USC News "Among all L.A. neighborhoods, Chinatown has the highest risk of unhealthy air". Furthermore they found that the area of Altadena had the most hours with healthy air while Chinatown had a total of 147 days it was considered unhealthy.
Global warming would make the ozone pollution worse because of its heat that it radiates leading it to increase the chemicals for which it was created from and make nations around it suffer.
Ronald Cohen, a professor of atmospheric chemistry at UC berkeley stated "We learned unambiguously that if you just take half the cars off the road, that cleans up the CO2 quite a lot, but CO2 doesn't contribute to smog" furthermore Cohen stated that "And that removing half the vehicles is not enough to control smog in L.A."
The regulations for Air pollution differ in which: 0-50 is good, 51-100 is moderate, 101-150 is unhealthy for sensitive groups, 151-200 is unhealthy, 201-300 is very unhealthy and finally 301- and higher is hazardous.
If places like Los Angeles continue to have bad air quality that goes over the air quality standards, the standards will not change due to them only being almost like a ruler to identify when the air quality is good or bad, although if air pollution continues the Clean Air Act may require an update.

A way that you and your family can stay safe from Air pollution is by checking the air quality index (AQI) forecast, which determines what quality of air is good today in our area. Avoid areas where the AQI says it is reaching dangerous levels of pollution that can be harmful. The Center for Disease Control (CDC) recommends thinking about spending more time indoors, and to plan outdoor activities so they don't coincide with high levels of air pollution.
A way that Air pollution can be reduced is to drive vehicles whose engines are not as hazardous to the air or drive electric vehicles. Factories could also be cut short for time in which the smog that comes out of their chimney's would not be as toxicated.
For more information visit the LA Times website and IQAir.com for the AQI forecast