How can this new order affect people?
By Albert Floreano and Evelyn Munguia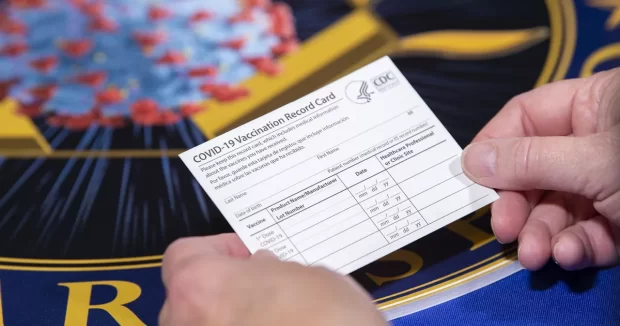 On September 17, 2021, Los Angeles County Department of Public Health (LACDPH) announced a public health order requiring proof of COVID 19 vaccination status for all visitors and employees at, indoor bars, nightclubs, restaurants, malls, concerts, amusement parks and outdoor events with more than 10,000 attendees.
Starting on November 4th, Los Angeles County will require proof of COVID 19 vaccination to enter indoor business and large events. Businesses are required to ask any fellow customers for their vaccination card to show they have gotten fully vaccinated, which will be their access to enter public places.
There are exceptions for those who are not vaccinated due to medical or religious reasons. People who are not vaccinated can instead provide a negative covid test before entering an indoor space.
Children under 12, who are not yet eligible to be vaccinated are exempt from this requirement.
Proof of vaccination requires the physical vaccination card issued by the Centers for Disease Control and Prevention (CDC) or a photo of both sides of the card or a negative COVID 19 test taken 72 hours before.
If customers don't show proof that they have been vaccinated, businesses can still serve them outdoors if they have space, but at large events those who don't show proof will not be allowed in.
An APB student said, " To begin with, I strongly believe that getting vaccinated is important to not only protect oneself but also for those around us. However, yes the requirements of having vaccine cards for proof when going out to public places does sound crazy."
Additionally the student said, "But unfortunately not everyone has put in the effort to work together to fight this virus. Therefore, I think it is valid and reasonable  for public places to ask for vaccine cards."
US History teacher Mr. Hinojosa said, "I think this is a good thing. I personally would feel safer knowing that everyone who is in that space has a vaccination or a negative COVID test within the last few days."
Both student and teacher expressed their opinions on how they felt about needing vaccination cards to be able to go out to public places.
" I do believe this is a fair thing as long as everyone cooperates. And especially to better our safety which can help us slow down COVID-19 cases. I say this because if we all put in the effort, we will slowly see progress," the APB student said.
The APB student goes on to say that they believe that Covid 19 vaccinations for proof can be a solution to helping slow down the virus.
" It is unfortunate to say the word "force" but yes it does seem and really is "forcing" someone to get vaccinated. I just believe that those who aren't yet vaccinated should reflect on the past year and a half. How it has ended many lives and maybe it hasn't given the full recovery to many people but it has definitely caused less sickness," said the APB student.
"I do believe this is a fair thing. It is giving people a chance to stay as safe as possible when going out to public spaces," said Hinojosa
Mr. Hinojosa tells us that he believes that asking for Covid 19  vaccination proof is fair in order to give the people the chance to feel safe when going to any public place.
"I don't believe that this is forcing in any way. I do believe though, that it is a very strong incentive for those that are not vaccinated to get vaccinated. Maybe it's the small push they need to go through with it," Hinojosa said.
With this we hope that this public health order can help stop covid. For more details on ways to verify proof of vaccinations visit the LA County Department of Health website.