The Coronavirus has affected both the airports and the people traveling in different ways. This has caused them to take different procedures to stay safe.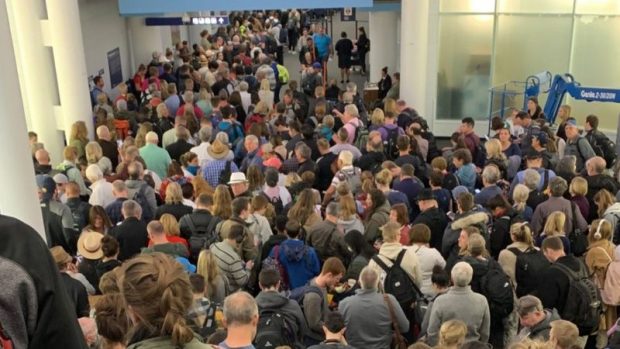 In the Chicago O´Hare airport the travelers who arrived have to wait 
for long periods of time. Andrew Garver/BBC 
(

https://www.bbc.com/news/world-us-canada-51895246

)
By: Esmeralda Lopez, Jaqueline Pacheco, Giselle Maldonado
During the COVID-19 pandemic the travel industry is estimated to lose a total of $500 billion dollars this year. 
The travel industry like food services, lodging/accommodation, air transportation, recreation & amusement parks, retail, and other kinds of transportation will be drastically affected. Due to COVID-19 pandemic citizens are in lock down, borders closed, and flights grounded. 
These numbers would still be increasing over the year if COVID-19 continues to spread and more areas of traveling continue to close.The amount of people entering the United States from China in the beginning of COVID-19 is about 759,493 people.
From the amount of travelers returning there were about 228,000 Americans returning home and Chinese nationals arriving as well. "Overall, during the start of the Coronavirus pandemic there were 3.5 million travelers that entered into the US." according to abcNews: Coronavirus Health & Science.
Airports schedule could change and make more procedures if necessary in order to secure that COVID-19 throughout other countries and our own do not increase and expand. Some procedures that airlines are going to take for example focusing on individual passengers, pre-departure, in-flight, and post-arrival health education for passengers. 
Airlines would also include voluntary collection of contract information from passengers using electronic means, making the lines less long. Airlines would start enforcing mitigation efforts on individual passengers while collecting data to ensure the risk of COVID-19 spreading according to CNBC's Leslie Josephs.
Since the beginning of COVID-19 the airports health precautions have changed, for example blocking off middle seats, issuing new boarding procedures, and requiring masks. Furthermore, airports have started to use thermal cameras to screen people's fevers, distribute sanitizing wipes and gel, disposable latex gloves and cleaning wipes as they board.
United Airlines said "it's planning to test touch less kiosks where travelers print luggage tags. They also said that they are going to let travelers scan their own boarding passes."
If a person decides to travel during the Coronavirus they are going to have to follow some rules. One of them is to wear their mask which means to cover their nose and mouth. Another is to stay 6 feet away from strangers. 
Not only are airports taking precautions, but also the person traveling should take them. To avoid being close to someone who is sick. Do not touch your eyes, nose and mouth. 
Another is to keep their hands clean like washing them for 20 seconds or using hand sanitizer with at least 60% alcohol, and medicine that you would need. 
You should also consider bringing packed food and water if public restaurants or food areas are closed. 
When cleaning your travel lodging make sure to clean and disinfect all areas. When traveling people have to make sure they wear their mask properly at all times. 
Finally if you are sick do not go to public transportation, events, gatherings, malls or any sort of way you could infect others around you.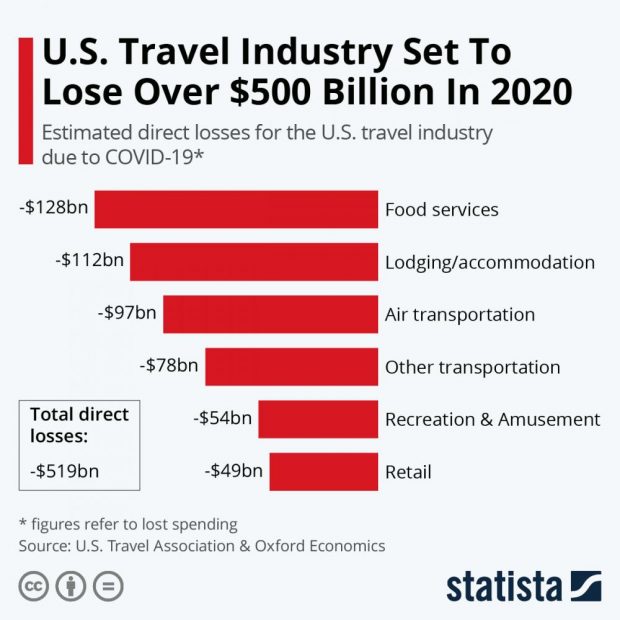 The travel industry has lost lots of money due to the coronavirus in
2020. Niall McCarthy/Statista. 
(https://www.statista.com/chart/21443/direct-losses-for-the-us-travel-industry-due-to-coronavirus/) 
Literacy Enrichment teacher Amanda Garcia says that during trips she's had during the pandemic, she has stayed in Air BnBs that are thoroughly cleaned to travel but still be safe. "I am mostly comfortable with local trips with just my immediate family. I think so far it has worked for us, but like I said, we have been really cautious," she says.
Before traveling people should always do their research so they know what is happening since things change quickly. Some things they can research before traveling is looking up the number of cases of the past week in the state they are in and the state they are going to.
Another thing to look up is the restrictions and rules you have to follow in the place you are at and the place you are traveling to. Also do research on how the airports have changed and how they run during the Coronavirus. 
There are also some procedures that people should follow after traveling. They might feel good and might not feel or see any symptoms or getting sick but you can still have the Coronavirus and can spread to others. This means they are going to have to quarantine for about 14 days after traveling. Possibly, get a COVID-19 test after travelling. 
Deciding if it is worth traveling during the Coronavirus is hard. If you travel you may not even get sick but you may also get sick and cause others to get sick as well.
English teacher Madeline Edelman says that the precautions she is taking to stay safe when traveling is just staying home to help avoid risks."The idea of spreading it to anyone and having anyone get hurt because of my actions is a very upsetting prospect," Ms Edelman said.
While in the air the germs will not spread due to how the air circulates but on ground which is before and after traveling can still get you sick. Having to stay 6 feet apart from other people can be hard since airports are crowded. 
You never know what can happen if you travel, it is recommended that you should only travel if it is an emergency or essential.