It's a new year and that means more movies! This year brings many laughs from  many actors, such as: Kevin Hart, Paul Blart, Will Smith, And Ashton Kutcher. This  Upcoming year will be filled with amazing movies, such as: 50 Shades of Grey, Jurassic Park, and many more.
These are our top 10 movies that we are looking forward to this year:
Hot Tub Time Machine 2:

Hot tub time machine 2 starts off in the future after Lou becomes "the father of the internet" and CEO of "lougle"  but after Lou is shot by an unknown assailant, Jacob and Nick fire up the hot tub time machine to save his life.

The Duff: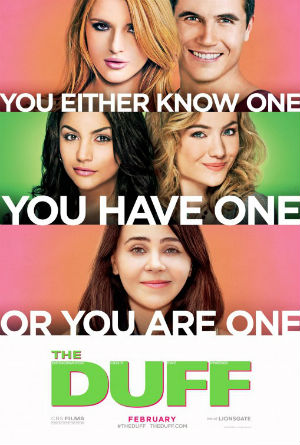 Based of the novel by Kody Keplinger, a high school student is enraged when she finds out the label that was given to her by her friends. She plans to get rid of the name DUFF (Designated ugly fat friend) with the help of one very popular boy.
Margarita Serrano, senior student at APB, said "It looks funny, it reminded me of the movie Mean Girls".

Jurassic World:
Twenty years after Jurassic World was created, a theme park is opened. After low visitor rates, the park decides to add a new attraction that doesn't go well.
APB's chemistry teacher, Ms.Roselman said "I've been watching many trailers to this film but this trailer didn't give away too much, I'm excited to see how the creature looks".
Fast and Furious 7:
After the death of his brother, Deckard Shaw seeks revenge on Dominic Toretto and his family.This movie is also heard to pay tribute to Paul Walker who also starred in the movie . All the big fans of the Fast of the Furious movies get ready because the film is expected to launch in april 3 2015 .
Jonathan Villatoro said, "I think that Hollywood is starting to run out of ideas and are making movies of cars which are beyond insane to do". "I like cars that fly and have parachutes" he said
Mall Cop 2:
Paul Bert the security guard and his daughter Maya are headed to Las Vegas to attend a security guard expo before she leaves to college. While at the convention, Bert finds out that there is a heist. Bert and his team of security guards team up to stop and catch the criminals.
Apb's Spanish teacher, Ms.Mehl said she can wait until it goes on dvd, it seems funny but not to the extent where she will go to the theaters to see it.
Ted 2:
Everyone's favorite teddy bear is back! I think we can finally say bye to those thunderstorms. Seth Mcfarlane's film is expected to drop this summer. Many fans are excited to know if Ted will remain as crazy as he was in the previous movie.
Insidious: Chapter 3:
Insidious chapter 3 is a prequel to Insidious. The prequel reveals how the psychic Elise Rainier is gifted. She agrees to contact the dead to help a teenage girl who is being targeted by a supernatural demon. What will happen to her? Soon to be found out.
We interviewed Sigifredo Soto, a junior at Apb and he said that this movie was predictable and it had no new elements to the others.
50 Shades Of Grey:
Based on the excellent novel, Anastasia Steele, a student, goes to interview a wealthy man Christian Grey. As a favor to her roommate Kate Kavanagh, she discovers this beautiful man. Will she fall in love? What will happen? We will all know when this movie launches later on this year.
Insurgent:
Beatrice Prior must confront her inner demons. Her fight against a powerful alliance which threatens is consistent. With help from others, she plans to restore the society that is being broken.
Pitch perfect 2:
The Barden Bellyas enter an international competition that no American team has ever won. Will they be the first to win?
These are the most seen trailer movies but aren't the only interesting movies of 2015!  Other movies like the Hunger Games: Mocking Jay part 2 and Fantastic 4  trailers are soon to be released. This year will be filled with amazing movies that can creep you out and give the chills like The boy next door or Paranormal Activity: Ghost Dimension. Movies like The perfect guy and Cinderella will bring laughter to our faces. Everybody shall remain excited for the films that will be launched this year.