Is The Latest Samsung Flagship Worth It?
By Bryant Gutierrez
The Samsung Galaxy S6, the latest flagship from Samsung, was released in quarter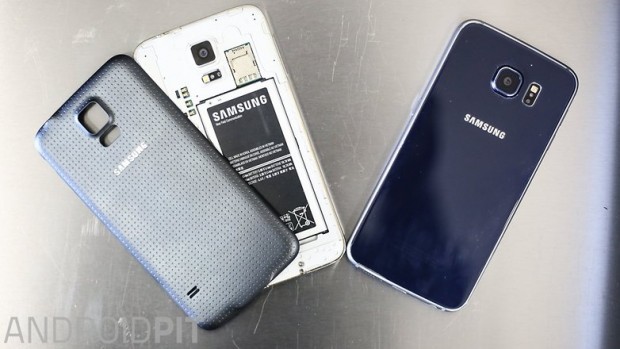 one of 2015. It is a major upgrade compared to last year's Galaxy S5, both in the specification and exterior design departments. This year, the new flagship has a really big design change compared to it's little brother, the S5. The Galaxy S6 does not have expandable storage, neither does it have a removable battery or a removable back. (As shown in the image by AndroidPit) The removable battery and expandable storage were the key benefits of the S5. If you're ever running low on battery power, you would just swap the dead battery for a fresh one. The Galaxy S6 is also not water resistant, unlike the Galaxy S5 (which is IP67 certified). The newer flagship has a lot of upgrades when it comes to the hardware department as well. The Galaxy S6 has a Quad HD display with a resolution of 2560×1440 which means, if you're good at math, that it has a pixel density of 577 pixels per inch. It also has an upgraded fingerprint sensor; with the fingerprint sensor on the Galaxy S5, one would have to swipe their thumb or whatever finger they would use down the sensor. Those who actually used it found that it was a bit of a nuisance. Having to swipe down on a sensor rather than just hold a finger over the sensor like Apple's Touch ID. Next, when it comes to charging ports the S6 has a micro USB charging port instead of the USB 3.0 that was used for the S5. In words of headphone jack placement, that has changed too. In all other products in Samsung's S line, the headphone jack was placed on the top of the phone; this year, that changed. The headphone jack has been moved to the bottom of the phone. Along with a new, louder, speaker. The speaker on the Galaxy S5 was placed on the back of the phone near the removable battery. That too was a bit of a nuisance; when placed on its back, the phone would have a muffled and really distorted playback when it came to music playback. Overall, the Samsung Galaxy S6 is a good phone and if you are looking for an upgrade, the S6 is a good choice.