Toxic Water in Michigan
By Michelle Gomez
People in Michigan have been drinking toxic water for about two years when the state of Michigan decided to save money by switching their water supply. The state initially got their water from Lake Huron, where they paid the city of Detroit for the water, and eventually switched to Flint's water supply.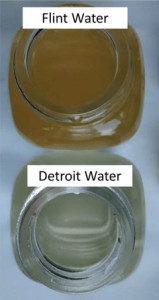 Soon after the state changed its water supply, the water started to taste and look weird. Many people who drank from the water realized that the water often looked dirty.
The reason that the water looked and tasted weird was because there was iron in the water that people drank from. In addition to the iron, lead also began to leach into the same water supply. This was due to the fact that the water was not properly treated.
Marelis Aguiar, a senior in Animo Pat Brown, believes that they should get rid of the dirty water that people have been drinking because people are getting sick and it is causing a lot of health problems.
This problem had continued to happen for nearly two years because the city and state officials told the people drinking the water that the water was perfectly fine. To make a point that the water was safe to drink, Former Flint Mayor Dayne Walling drank the water on local television. Anyone who drank from the water was exposed to lead.
Students in Animo Pat Brown believe that it was extremely wrong for the state of Michigan to try to hide the fact that the water could be toxic just to save money.
Marelis Aguiar believes that "People's health is more important than saving money". Instead she believes that money should be used in order to ensure that the water people are drinking is safe and clean.
Even though Michigan was trying to save money, they now have to pay millions of dollars in order to fix the pipes and ensure that everyone gets clean water to drink.
Leave a Comment