Schools are not safe without a Security Guard. Animo Pat brown charter High school recently hired, Mark, the new security guard to ensure that the lives of its students continue to be secure around campus. Not many students know much about mark ironically, we trust him with our lives.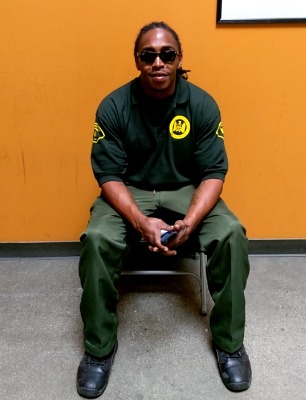 Mark has been working as a security guard for two and a half years. For a lot of people, two and a half years might seem like a short amount of time however, it's not that short when they find out that the duty a security guard executes is risky and dangerous. One of the challenges Mark has encountered was that students would often disrespect the authority he held as a security guard. This would then lead students into wanting to fight him, but with the experience Mark had, he was able to be the better person and control the situation.
Our security guard might seem serious and a bit quiet however, he is more than that. Mark grew up in Inglewood California. When mark is not working, he enjoys playing basketball and taking on opponents in games of chess. Many security guards aren't very talkative and sometimes only want to be seen as the tough guy around school. Nevertheless, Mark is different. Have you ever heard of a security guard that likes going out to the beach? Well, Mark is the type of security guard that appreciates the fresh and sunny environment that a beach has to offer. He might be the security guard at school, but he is also an outgoing person outside of work.
I asked Mark what he thought about our school and this was his response:
"Our school is a wonderful school because it consists of amazing teacher connections, and administration cares about their students and community".
As our friend and security guard, Mark understands our community and is working hard to learn more from it and also protect it. He wants students to know the following, "Life is not easy, as long as your mindset is positive, you will be able to have various opportunities and a positive future".
Next time you see Mark, do not hesitate to say hi or even challenge him on a game of chess.