Scream Season 2: Review
The MTV horror show Scream, has just ended its 12 episode finale this August, and it ended up with many doubts and suspense. The show that is inspired by the original Scream movies has made a great success on hooking many viewers around the globe and being a highly anticipated show in the nation.
As the show began its first season in July, 2015, it has been greatly known, since it was nominated three times in the Teen Choice Awards but unfortunately did not win any. Besides that, the show gives the viewers a similar plot to the original Scream plots, were the main character Sidney from the movies could be seen as Emma Duvall played by Willa Fitzgerald, in the series. Season 2 picked up in the events were season 1 left off at, were the doubts of a new serial killer is being questioned by the 'LakeWood six' which includes the survivors of the first serial killer, Piper. The Scream cast are perfect for the show, since all actors and actresses play their role effectively. Especially Amadeus Serafini who plays Kieran Wilcox, he gives the viewers the feeling to trust him in anything and be close to you, but later you just find the worst of his character. Season 2 kept its blood gutting killing, which makes it more scary and intense like viewers like me. Not only season 2 kept its suspense, but it gave jump scares, which clearly fits the show.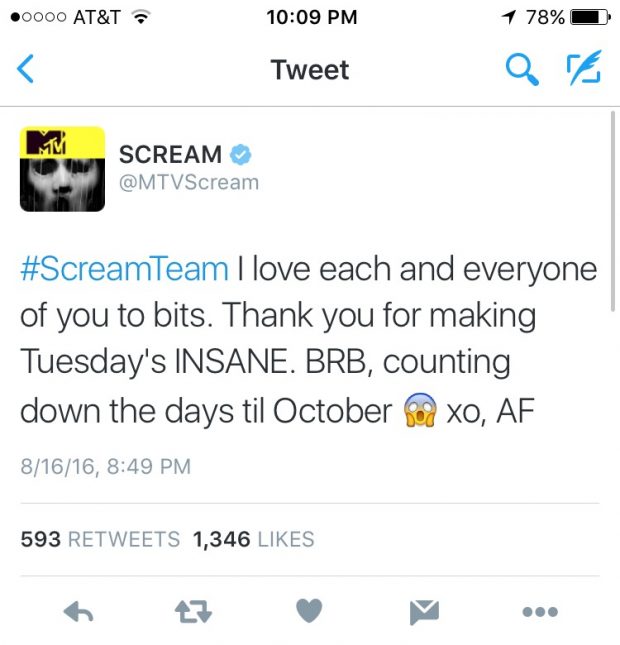 Scream is one of personally favorite show this year, even though it gave me feelings when some of favorite characters got killed off by Pipers boyfriend. I could say it was awesome and suspenseful because it made me question is this character is the killer or not, could she or he be a accomplice. Besides there could be great news for those Scream fans out there. The show is rumored to be renewed for season 3 this October according to MTV's Scream twitter account that gave hints to there fans. Why couldn't it be more sooner? Anyways, so pumped to see who is the new killer again for the third time.