Ronda Rousey Loses In 48 Seconds!
By Karina Estevez, Nancy Reyes , Anthony Estevez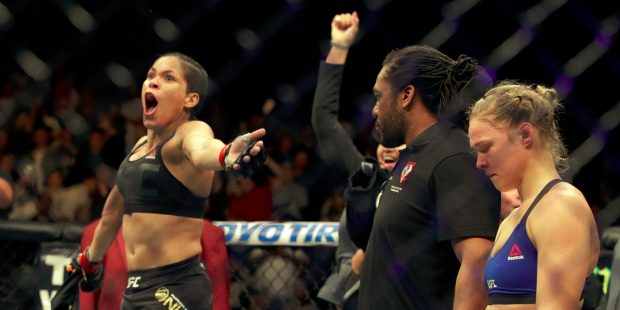 Ronda Jean Rousey is an American mixed martial artist, judo, and actress who was  undefeated. On Nov 14, 2015  she had suffered her first loss leaving her streak of no losses down the drain. Recently on Dec 30, 2016 coming out of a 1 year break due to her first loss she fought Amanda Nunes and suffered another loss. After her second consecutive loss many critics began to speak about the future of her career. Amanda Nunes spoke in an interview backstage and said, "It's over, done for Ronda Rousey… Ronda Rousey is now gonna retire".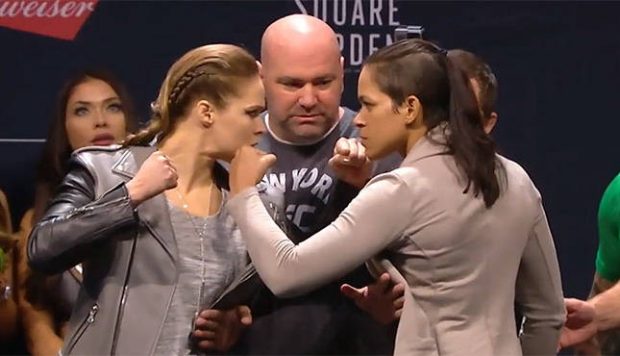 Ronda Rousey had most of her wins by submission with a winning streak which made her into the top fighter she is, which even got her into the movie industry. After her last win, fans began to notice her demeanor changing from a champion  into a cocky skilled fighter. Many say that, that was the cause of her downfall when she fought against Holly Holm to defend her title. During the fight Rousey, decided to change her fighting style into one that she was not trained for. In the second round of the fight with Holm, Holm began to take over the fight and then knocked down the champion with a vicious kick to the head.
After Rousey's first loss, she went to a one year break and broke silence by making an appearance in the Ellen show in February  2016. Rousey spoke up about how she felt and said, "I was literally sitting there and thinking about killing myself, and that exact second I'm like, 'I'm nothing…What do I do anymore?…No one gives  about me anymore without this". Months after the media announced of Rousey's return to the octagon for a title fight against Brazilian fighter Amanda Nunes. Rousey's confidence began to show again as her fight began but, confidence alone is not enough to win a title fight. Nunes came out with hard blows and rocked Rousey right away, winning the fight in 48 seconds. The fight was disappointing and Nunes even stated before that she was surely capable enough of beating Rousey. Her record now stands at 12 wins and 2 loses that came consecutively.
Since Rousey's current loss she hasn't said anything. Fans believe that Rousey will try and get her belt back, but critics say otherwise and hope for her to retire. After all, during her fight with Nunez, Rousey didn't land a single punch and doesn't seem stable enough to fight after another loss.
Leave a Comment