The United States of America consists of a diverse community.  In the past few years, many Americans' perspectives on immigrants have been publicized, this has caused many others to believe that immigrants have a negative impact on the United States. The stigma on hispanic people continues to grow as Trump rises as the new president of the U.S, here at APB, there are many students and even staff whose ancestors moved to the U.S in hope of creating a better future for their family.
Mr. Villa, 12th grade robotics teacher, is from the first generation in his family. He can trace back his ancestors to his great grandmother, who first moved to the United States from El Salvador before he was born.  
Villa's grandmother left her home country due to the same reasons many immigrants move to the U.S.
"My grandmother moved here because a friend told her about the great opportunities here," Villa stated, "I think at the time my grandmother was in Panama working, and her friend was in San Francisco." His mother then moved to San Francisco because her mother had moved there.
He states, "My mother lived in Los Angeles, about 35 years", "I was born and raised in LA."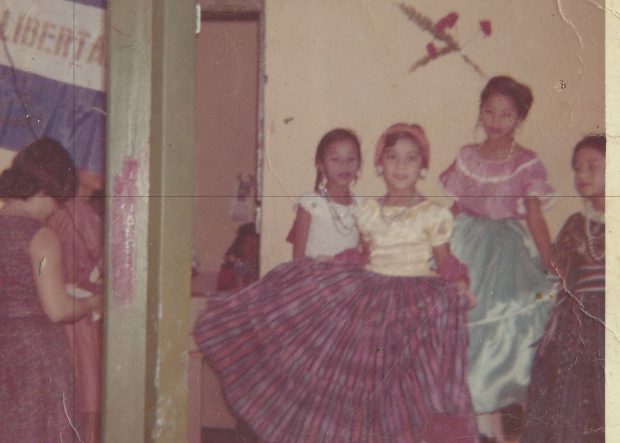 (Mr. Villa's mom dancing as a child in El Salvador)
While growing up Villa followed his parents' culture by listening to latin music, eating latin food, such as pupusas and empanadas. But also grew up with US culture, "I grew up heavily on rap, and rap is fundamentally US culture", stated Villa
Although Villa still follows some of his ancestor's traditions, he believes himself to be Americanized in the typical sense as he does speak English, and celebrates American holidays, "I just celebrate the ones we celebrate here, like Christmas," Villa stated.
Villa believes "being American" should express all the cultures that make up the United States.
"I don't like that the US has a monopoly on what is means to be Americanized." Mr.Villa believes that the meaning of Americanized should encircle all of America, like Latin America as well, "I think it should be just as "American" of a thing to eat pupusas."
To summarize, although Villa comes from a family with a history of immigration he follows some American traditions alongside his ancestor's Salvadoran traditions. The United States is a mixture all kinds of people who have different beliefs and traditions which can mix and create new forms of culture.