DACA Student Violations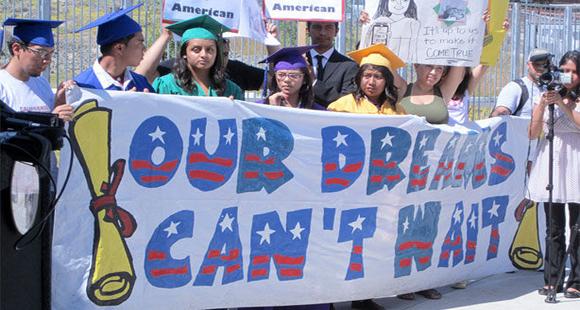 By: Esthefany Anzaldo and Jazmin Arreguin
Many young immigrants are in the United States legally through the DACA (Deferred Action for Childhood Arrivals) movement. Established in 2012, DACA is a program that protects students, also known as "the dreamers", who were brought to the United States at a young age from deportation. It gives them the opportunity to work and go to school legally working up their way to a brighter future.
However, since Trump's inauguration, the movement has made many dreamers fear that their security is no longer available to them. To this day Trump has not made an official decision to what is going to be done about DACA. But mass deportations have made many current students protected by DACA, like myself, doubt they will keep being defended in a legal way. It is said that Trump's office has been trying to get hold of the information from DACA students as their address and parent's names, job's, and other information is listed (Marshall "What could happen to DACA recipients under Donald Trump"). Nevertheless, Trump claims "They are here illegally. They shouldn't be very worried. I do have a big heart" and that supposedly "We're going to take care of everybody. We're going to have a very strong border" ("DACA recipient Daniel Ramirez sues US over his arrest").
ICE has been showing up at homes and separating families and even arresting those who are legally protected. Daniel Ramirez, protected by DACA, was arrested and taken under immigration custody after ICE showed up at his home to arrest his father. Ramirez's lawyers claimed this is the first time a student protected by DACA has ever been take into immigration custody and have his constitutional rights questioned ("DACA recipient Daniel Ramirez sues US over his arrest"). He sued the U.S. over the unconstitutional arrest and violation of his rights. ICE spokeswoman stated Ramirez told ICE agents he was a gang banger and they were worried he was a threat to the public. They were pressuring Daniel to falsely admit to the accusation but his lawyers fought for the release of his detainment. The image to the left was taken by Bryan Cox/Reuters.
Another student detained for possession of marijuana was put on hold at Bexar County Jail by ICE. Josue Romero was brought to the U.S. when he was 4 from Honduras and is the communications manager in an art school. Amy Fischer, policy director of RAICES, says, "As a DACA student he should not have been detained. He has legal status and there's no reason he should have ever been in contact with ICE" ("A 19-year-old undocumented student — authorized to be in the US — was detained and then let go by federal agents"). ICE has been detaining any immigrant who was convicted and even a suspect of a crime. The fact that Romero was detained for such a minor charge, should not put him in a position to have to give up his future in the United States. The Picture to the right was taken by Courtesy of SAY Sí.
http://www.aljazeera.com/news/2017/02/daca-recipient-daniel-ramirez-sues-arrest-170215172735137.html
https://www.pri.org/stories/2017-02-16/19-year-old-undocumented-student-authorized-be-us-was-detained-and-then-let-go
Leave a Comment