Community Safety
Do you know what is occurring in the community around you? Being safe, and understanding the environment in which you live in should be a person's first priority. I feel that there is a great importance in knowing who your neighbors are and their backgrounds. People aren't always who they seem to be.
Family watchdog is a website where you can look up your area online, and see all of the registered sex offenders in your area. The first thing you see when you open the website is the option to lookup an address city/state or just a simple zip code. I put in the address of Animo Pat Brown, which is the small blue house below, and all the dots around the house are registered sex offenders. The red dots are offense against children, yellow is having a rape history, blue is sexual battery, and green is having other offenses. You can also individually search up a person or click on one of the pinpoints to view the profile of the offender including their address, picture and full description of the offender.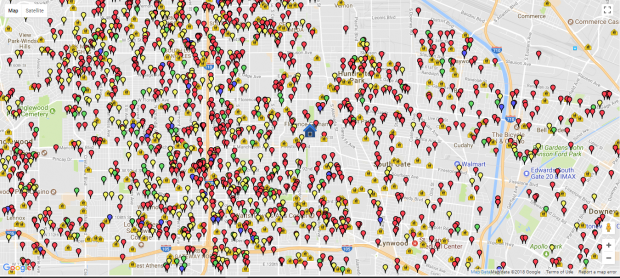 You might not think about the history of our streets and everything that are community has experienced, whether it's the cases of the sexually assaulted or the murdered. For instance, the infamous Grim Sleeper lived in South Los Angeles, and there is where he would look for his unsuspecting victims. He received this nickname because he appears to have taken a 14 year break from the years of 1988 to 2002. The Grim Sleeper was charged with the death of 10 lives and attempted murder of one; but he is suspected to have killed more. They arrested 57 year old Lonnie David Franklin Jr. in July 10, 2010, but he was only arrested as a suspect. They later matched his DNA with that of the 10 cases including the deaths of nine women and one teenage girl. Due to his monstrous actions he was convicted to death on May 5, 2016. His only known survivor Enietra Washington had been raped and then shot at. The rest of the Grim Sleeper's victims were left decomposing in allies; there is a strong chance that the rest of girls underwent the same treatment as Enietra and were raped as well.  
There are other infamously known offenders like the Teardrop rapist who was suspected to have raped up to 28 girls since the year of 1999. His tactic was to seem as if he just wanted to talk to them, ask a simple question or for directions. And before they understand what was going on he would lead them into an ally and sexually assault them. This is the same case for many other rape victims. As a child, parents always tell their kids not to talk to strangers while we as simple minded children always brush their warnings off as them being doting annoying parents. The reality is their warnings are not to be taken lightly unless you want to be just another victim.
By: Marilyn Arredondo & Bruce Mondragon