By : Jennifer Romo, Samantha Velez, Diana Zarate and Hector Guardia
Animo Pat Brown is one of the prestigious in the city,
Every school year students come and go, seniors graduate and juniors become seniors, however the grade most ignored in this school are the newcomers (The APB freshman). Other grade levels might view freshman as childish or immature meanwhile others might say they're adapting well. According to Principle Brian Reed, the new freshman are adjusting just fine. And in an academic level they were adapting well.
A new face in the APB community  is Katherine Avena, she has been at the school for 21 days and so far her high school experience has been enlightening. Katherine said " The school is nice,the teachers and freshman are friendly". She then later talked about how the teachers are approachable, she is not afraid to ask questions or go after school for help. She also explained how the other grades were good-natured
Another perspective came from senior Londy Hernandez, "they took our lunch table so we can't sit there anymore." Students since then, have been frustrated and annoyed from the 9th graders thinking they own certain spots of the school. Such as the benches, restroom stalls, front entrance, and halls.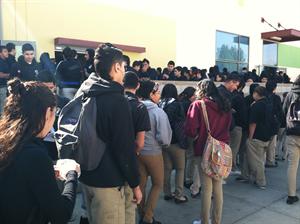 An old face in the APB community is Jasmine Martinez feels that they are too immature and need time to "develop". She says that the freshmen must leave middle school nonsense behind and grow up. Many freshman students also liked the way the teachers here ran their classroom and felt welcomed by their classmates. "They're friendly and help us on our work", said Freshman Michael Flores.