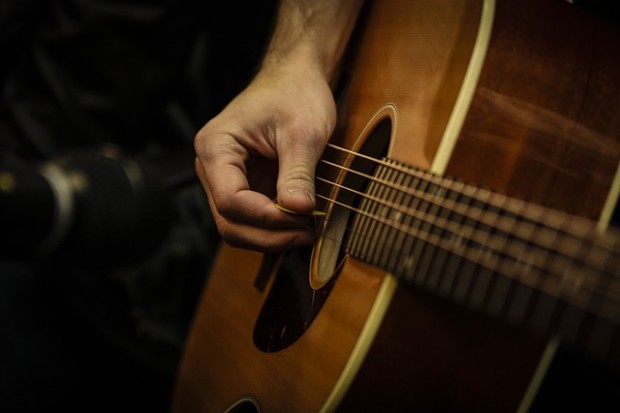 By Miguel Verduzco, and David Padilla
From Jimi Hendrix to Kurt Cobain, The one thing these famous musicians had in common was that they started playing at an early age. Now APB students have the opportunity to learn to play guitar now, at a somewhat early age.
Now I know some of you, might say "Hey! they learned to play before high school", That does not mean you can not become a great guitarist. Some famous guitarist started out at an older age such as Jerry Cantrell from  Alice In Chains around the age of seventeen. A majority of seniors and a few juniors are 17 years old in APB. l
Guitar club meets every Tuesday, taught by Spencer. Guitars are provided, I recommend going early if you are new because the majority of the good guitars are taken and sometimes they run out and don't have enough for everybody. Bringing your own guitar is an option for those who do not want to come in early to grab a guitar or those who just simply want to use their own.
" I joined the club not knowing how to play the guitar" says Jesse Espinoza a senior " now I know how to play the riffs of 15 songs, and I can play 3 whole songs"
When we asked him how long did it take him to learn how to play 3 songs, he responded "I don't really know, but if I had to guess it would be about a month or so, maybe a bit longer"
Furthermore, Jackie Rodriguez, a Senior also says that " I enjoy learning different chords and being able to play songs", Jackie  also stated that they provide you a guitar "but it is first come first serve, you can't take them home though and if you break them you buy it". She stated  that " transitioning from one chord to another and remembering placement for your fingers was something difficult I had to encounter ".
To encourage others she also mentioned "When I joined the club I did not know any cords, it took me a whole week to learn cords. I wasn't going to stay but I ended up enjoying it and stayed, I recommend giving it a try".