By: Francisco Cernas and Marlene Cazarez
Every Monday and Wednesday the volleyball team meets up at 3:30 on the dot, in the gym. At the start of the 2015-2016 school year, Shirley Zavala founded APB's very own volleyball team. Three years later, in the 2017-2018 school year, our volleyball team has had life-changing, revolutionary, and out of this world improvements. For the first time since its founding, our school is finally beginning to feel like an actual high school by giving APB a volleyball team and the chance to compete with other schools.
Coming into freshman year, Shirley Zavala, felt APB needed its own volleyball team, and worked to get one. Reflecting on it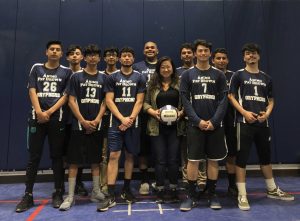 now,  she stated, "It feels like an accomplishment, I came into this school wanting to be able to play or even have a team. So. I was able to get Ms. Lee to be the coach and now have the opportunity to play against other schools, it feels like a dream come true."
Being on the volleyball team has allowed all members to meet new people from different grade levels. Freshmen Ruth Jimenez explained, "For me, as a freshman, I was afraid I wasn't going to be able to meet a lot of new people, but I was able to meet people from 9th to 12th grade." Many new friendships are built because of the team, another contributing factor to the creation of these bonds is working with each other. Working with each other benefits both the team as a whole and the members.
The volleyball team has gone against other teams such as Tajima Tech and Jefferson High for multiple games. We asked senior Alvaro how it felt to be the first team going against a different school and he said, "It feels good, there's just a lot of pressure on us." Senior, Sara Ron feels otherwise, "I feel like the volleyball team is underrated, everyone's all hype for other sports like softball or football, but volleyball is really fun."
Although the team has had a lot of success, there are skills the team members hope to improve as a team and within themselves. Senior Sara Ron and Isaac Jimenez both want to better on a different skill. For Sara she would like to improve her spiking, as for Isaac, he states, "I want to get better on serving because sometimes it could be really powerful and that's just an easy point for the other team."
Overall, many of the team members felt the same way about wanting to be able to travel as a team to other schools. The students here at APB hope to see great things come from the team. See you at the next game.