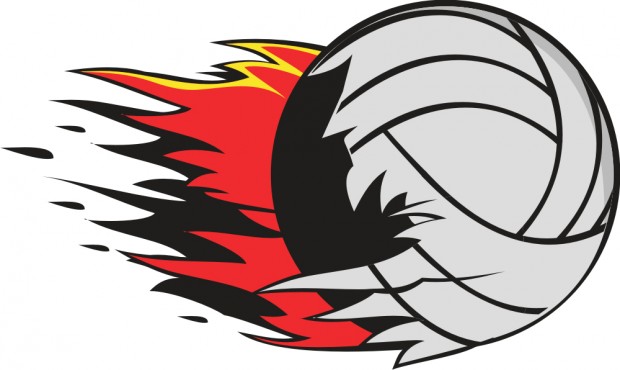 APB has finally introduced its long-awaited volleyball team- which, curiously, holds multiple teams. The last volleyball team Animo Pat Brown had was exactly three years ago. Currently, the head-coach of the volleyball team is Ms. Lee- if you're not familiar, she teaches tenth grade English. There are also three additional coaches who serve as assistants.
The only major comparison between the last volleyball team at APB-was girl only; the current volleyball team is co-ed.
For those who are not familiar with the sport, the basic rules apply:
Each team has 6 members, 3 members on the front row and 3 on the back row. The 3 members in the front row can jump or spike the ball over the net. The backcourt players are only allowed to hit the ball over the net if they jump from behind the attack line or the line that separates the back row and front row.
Volleyball is a vigorous sport that causes irritated wrists and palms due to all the constant serving and spiking. A lot of people may underestimate the sport thinking that it is only girl appropriate-however it requires a lot of balance, strength, and stamina to save the ball, which is something anybody can do!
Seniors, Lucy Venegas and Alicia Cortez are currently on the volleyball team. They seemed very excited when they found out they were on the volleyball team considering they spent a lot of their time and hard work during their try outs.
When asked about being part of the new volleyball team Lucy said  "I have never actually played in a volleyball team, but with each practice I believe that I'm getting better as a volleyball player. Although I started as a beginner, I got chosen to be team captain for my group".
Alicia also said something similar: believing that with practice she will get better.
Curiously, Alicia always wanted to play volleyball ever since she was very young. On the other hand, Lucy, who is a newbie to the sport, as a freshman wanted to play in a volleyball team saying that "I thought being involved in a sport would be fun and it would also benefit me to be more active".
If you're considering being part of the volleyball family, "practice is from 3:30 until 5 and we first start off by doing 10 laps, then we do stretches, and after that we practice serving, and receiving with the ball and then we compete within the 3 groups" Lucy described.
Alicia commented that "Our coach Mrs. Lee is a very good coach. She is doing everything to make sure that we learn how to properly play volleyball. She has a very good experience with the sport and has patience to show us how it is played. She also has good communication within the students which makes her very good coach".
Similarly, Lucy said that Ms. Lee " is a great coach. She has a lot of patience with all of us and she motivates us to do better instead of telling us when we do something wrong".
If you're interested in an extracurricular activity that involves a physical challenge and teamwork then Volleyball is for you!