'한국어 드라마는 새로운 일 있습니까' (Are Korean Drama's the new thing?)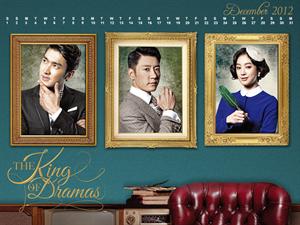 Korean dramas are an interesting form of entertainment, some are dubbed in English and other just have subtitles in English. The shows have a storyline that can  vary from a love triangle to someone avenging the death of their family members.
Some of these stories are very serious while others are funny and have exaggerated acting.
Korean dramas have brought about a wave of "dramafever" across the globe. Korean dramas are similar to latino novelas, they're trashy and interesting. Once you watch of couple of episodes like many people you will be hooked.
At  first glance it just looks like a show you would never watch because it is another language, which is true if you don't like reading subtitles but I advise you give it a shot.
Not only do the subtitles let you know what you're watching but they also increase your reading level!
The storylines of these Korean Dramas are usually exaggerated life situations like a break up in Personal Taste or they have some sort of magical and fantasy element like My Girlfriend the Nine-tailed Fox.
    We recommend that you try to watch these shows and variate what you watch on television. Korean Dramas are an interesting and fascinating kind of entertainment that will keep you hooked. Korean Dramas are also available at great viewing times and are available to you whenever you plan on viewing. The variety of the Korean Dramas available to you is endless.
These shows also benefit the viewer by giving you a sense of what a different country is about. The shows that are in another language are understood through subtitles and help readers improve their skills by following along with the story.
The good thing about it is the reading isn't boring since it's usually about something dramatic that occurs and e(a)ffects the characters much like their spanish counterpart, novelas.  Some apb students have already discovered Korean Dramas and have enjoyed them a lot.
Junior Kendra Valencia has been watching korean dramas for a long time now and is a big fanatic. "I like korean dramas because they have better story lines and are cleaner" said Kendra. Its interesting to see that Korean Dramas have broken barriers and have now become a new form of entertainment for everyone.
No matter the age of a person these shows will definitely have you hooked. Korean Dramas ratings have also increased throughout the years. In the past, Korean Dramas were only available to Koreans or to other people that are fluent in the korean language.
However, interest in these shows grew which brought subtitles or closed captioning. We suggest that you take advantage of these subtitles because they were made so that  non-fluent people like you can enjoy such Korean Dramas like The King of Dramas, The Great Seer and many more.
These korean dramas also include many famous actors. Although we may not have  even heard of them or can't even pronounce their names, these actors are phenomenal at what they do. They put in a lot of work into their works and work day and night to perfect the Korean Dramas.
Korean Dramas will totally revolutionize the way you see your television. Not only will you be entertained but you will be opening new doors of entertainment. Korean Dramas are a must. Although you can't compare a Korean Drama to spongebob we guarantee that you won't regret it.
Korean Dramas are not only dramatic but hilarious. Korean Dramas like ( ) will keep you laughing and will definitely entertain while you watch.
Freshman Steven Rueda was presented to one of these Korean Dramas. After showing him a video of a Korean Drama, Steven couldn't stop laughing. "Where can i go to watch these kinds of videos. I want to show them to my friends."
And if you're not into funny soap operas try other Korean Dramas.Korean Dramas like ( ) are very dramatic and suspenseful they will keep you at the edge of your seat.
Sophomore Soraida Estevez said, " I've never heard of a korean drama before you told me today. But they sound pretty interesting."
Soraida later mentioned to us that she watched a Korean Drama after we mentioned them to her. Soraida said, "Oh my god, they're pretty interesting and I bet they are way more interesting than the popular shows that are on now"
Many of the students that were interviewed had never seen or even heard of a  Korean Drama. Take Senior Yridiana Lopez for example. Yridiana had never heard of a Korean Drama least watched it.  "I don't know what a Korean Drama is. I don't even have an idea of what it could be. "
Students like Soraida Estevez and Steven Rueda were like other students who had no idea of what a Korean Dramas was. However, after watching a Korean Drama themselves they realized that the Korean Dramas would be potential shows that they would continue to watch.
So spice up your television routine and dump the usual American tv shows you watch now for Korean Dramas.
Image of the popular Korean Drama King of Dramas.
Leave a Comment