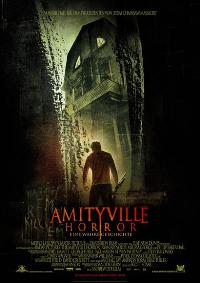 Amityville Horror:
The Amityville horror is based on a true story of a family who moves into a haunted house. In the house, a man killed his wife and children claiming the "voices" told him to do it. The husband gets a bad feeling from the house as he goes into the basement and notices the clock at 3:15. As the family moves into the house, they begin to experience supernatural activity. The series of supernatural events begin to build up and get more intense as time goes on. The Amityville Horror is a great movie to watch since it's based on a true story, making it an even  more intense movie.
Dream House:
Dream House is more of a suspense thriller than a horror movie. It's a movie about a family that unknowingly moves into a home where gruesome murders were committed.  But as they settle into their new life, they discover their "perfect" home was the murder scene of a mother and her children. Little did they know they are the killer's next target. Will and Ann must find out who murdered the family in their new dream house before the killer returns.
The Chucky Collection:
The Child's Play movie series has been a classic supernatural horror films for the last 2 decades. When a serial killer is being chased by a cop, he is wounded and runs into a toy store. He is close to death and takes a doll to cast a spell and transfer his soul into the dolls body. Each movie ends in the death of the doll, named Chucky, but he returns in the next addition to the series. The movies are more for creating suspense and scares at some points. The whole movie series is great to watch during this time of the year.
Case 39:
Case 39 is a movie about a social worker (Emily) who fights to save a young girl  (Lilith) from her abusive parents, only to discover that the girl wasn't the one who needed saving. The social worker adopts Lilith who ends up being a demon child. Not too long after Lilith moves in, strange things begin to happen around Emily. Lilith has a penchant for making people hallucinate their own personal fears and kill themselves. Throughout the movie Emily struggles to break free from Lilith.