By: Cassie Rodas and Leonides Martinez
As you walk into the school, you notice that the 12th grade guidance teachers are dressed a bit more elegant. The men are dressed in tux and the female are wearing nice dresses. Later on throughout the day, when the hour became 1:40 pm and there was only 10min left of 3rd period, you start to notice that your teacher starts to act a bit suspicious. When passing period came a long, you realize that all teachers are acting suspicious. In guidance, your teacher made sure that everyone was lined up in alphabetical order before heading off to the gym. As you sat down, you started to question what the purpose of this meeting was. Then Nathaniel Pickering, our ERWC and AP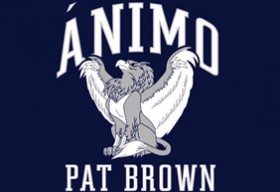 Language announced, "Welcome to your graduation ceremony."
Mr. Pickering gave a moving speech to the seniors that got us to laugh, and think about the far and near future. He expresses the struggles that we have all faced and will continue to face as well as the success that we will all had ad will have. He placed a good sense of humor in his speech but he also expressed his grand care within his words. "I was happy to do the speech. Us teachers spend more time with students than our families so it is very important for us." Teachers inspire different children but each teacher tries their best to motivate and help every single one of their students to succeed in high school as well as their future. "I try my best to not be busy and assist my students a lot. I hope my students know that at anytime they can come speak to me for my door is always open."
Teachers and staff organized a mock graduation assembly for the class of 2016. Most of the seniors did not have a clue about the assembly and others did know what was going on. Seniors had mixed emotions about the assembly, Hector Flores, an APB Senior said, " I was nervous and uncomfortable because i felt like someone might judge me since my last year's performance wasn't so good." Some other students had different emotions about the assembly, Bianca Zavala, an APB Senior said, "The assembly was a preview on what it will be and it was a little push for me to get there soon" Teachers hoped that students could get a bit of a grasp on how amazing it would feel to receive the diploma on that day.
Students are motivated in order to succeed in high school by their parents and teachers. Teachers inspired them to work hard because they believe that they can get far in life. Hector said, "Mr. Villagomez inspired me to work and demonstrate my capabilities since he would not a good grade on my work because he expected more from me." More students like Hector have experience inspiration from their teachers to work hard. Teachers from the beginning of high school have supported them and encouraged them to keep working hard for their future. Bianca said, " All of my teachers have inspired me with their support and I have never let them down because they have help me to succeed."
In a couple of months, all seniors will attend graduation and walk down the stage with a diploma handed from Hartford. Walking down the stage is very important for students because it demonstrates all their hard work throughout their high school years. To some students, they feel as though It is important for them to walk down the stage to receive their diploma with everyone else. "Yes, it's important for me because I worked hard and had a fair share of failures and success," says Hector. Bianca also states the same idea, "Walking down the stage represents the fact that I accomplished and worked like everyone else." High school years are very stressful on students and they have many downfalls; however, graduation allows them to feel proud about themselves.
From the beginning of our childhood our parents have talked about how soon we are going to college and begin our own independent life with the career of our choice. We have always overheard our parents talk to other family members and friends about how we are going to become a teacher, lawyer or a police etc.  As most of us believed that it was a long time for us to start those plans our parents dreamt of us to have a better life. But the time seems to be getting closer and closer moreby the minute. Our parents are the ones that are really excited and will be proud to see us walk down the stage with our diploma handed by Mr. Hartford. As senior students, we have worked for such a long time and are proud of ourselves for surviving these school years. Overall no matter what college you will be in or got in as student we will make the best of it. Mr. Pickering advises us all, "Take yourself seriously. The world needs to see and experience you. The more you invest in yourself, the more you'll put out."