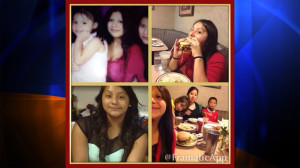 (Provided by KTLA)
Yoana  Espinosa, a 15-year old girl, who moved to Los Angeles from San Francisco a few weeks before her death. KTLA reports, witness told sheriff deputies that the victim was standing on her apartment staircases when she was shot in the upper left  of her torso. She was later pronounced dead while being transported to a local hospital.  Los Angeles Sheriff's department reports that, " the gunman fled on foot, appeared to be in his twenties and hispanic" (reported by LA Times).This murder occurred on Wednesday 23, around 11pm.The shooting took place in the city of Willowbrook in the 11900 block of Wilmington Avenue(NBC reports). Police officials were left puzzled because they are not sure if gangs were a factor. NBC news reports, that the victim was arguing with someone earlier which leaves investigators puzzled because there could be any possible link with the murderer. Many are left with the question that perhaps it could've been a boyfriend or ex boyfriend since there have been many incidents involving the death of someone because of an obsession.
Gang violence could be to blame for most of the deaths, but it is not clear if they played a vital role in this murder. Gangs are everywhere and everywhere they are they cause chaos. It seems as if gangs are to blame for most of the crimes committed. Gangs terrorize our thriving society and diminishes society's hunger for progress. People want to prosper but its very difficult since gangs control their "turf" using fear. Society cannot successfully triumph if their children are being killed, used as troops, or used as drug dealers.
Here at Animo Pat Brown the students play a role, not only in their future but also the role of helping eachother out when problems happen to other students. Many students here at APB listen and help each other out when other students need the help. The roles of students have helped APB decrease violence and gang activity, this makes APB a safe environment for all students and future students to come.