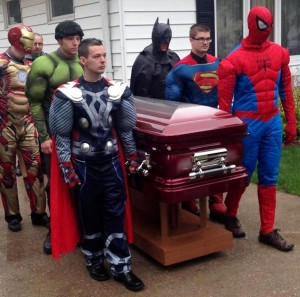 An Indiana boy named Brandon died from cancer that led him to stop breathing, but first on his disease it made him stop walking, eating, and drinking. A month past when his mom directly thought of taking him to the hospital, Riley Hospital for Children.
Brandon had a  brain tumor, which later he could not longer fight as much since his cancer had spread. The boy passed away, and his mother was devastated, but wanted to make something memorable for the people that knew him, and  knew him as a hero.
She wanted people to recognize him as a hero because she saw the strength and effort Brandon made in order to fight cancer. The boy's mother Staci Denton thought of the idea of dressing up the carriers of his funeral casket, to dress up as superheroes such as Spider-man, superman, Thor, batman, hulk, and Iron man. Brandon's mom Staci said that it is what Brandon would of wanted and, would of approve.
Based on this, many people that had their kids diagnosed with cancer and passed away should do this kind of memorable artifact that the children loved the most. I believe that doing this can become something special in your life because it is like a part of the child still with you.