4 Dead 20 Survived Taipei Subway Stabbing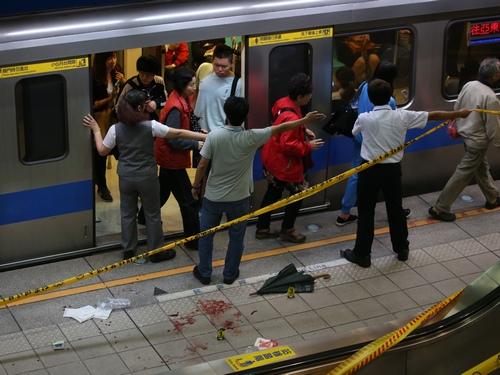 On wednesday May 21st a twenty-one-year-old student named  Cheng Chieh ,that attended a university had randomly stabbed to death four people and injured more than twenty others at a subway station in Taipei, Taiwan (Asia). Apparently the student had aboard the station earlier on and started to stab people around him before it reached its next destination in Jiangzicui around rush hour. In a video of the stabbing it is showed that an injured man tried to forbid the man from hurting others with an umbrella.
Once the subway arrived in Jiangzicui station the people fled and warned the others passengers, that were waiting for the train. Soon after the four minute stabbing, the security guards alerted the police and arrested the man. The man apparently had two knives one small and the other twice as long which he carried in his pocket.
Police reports that the man had previously been drinking and could have been a motive for which the stabbing took place. But later on declared by the man himself that the reason for his stabbing was  just something he wanted to do since early age once he graduated. Chieh had told a police that he had no regrets for his actions and he felt "nice".
On tuesday May 27th the parents of Cheng Chieh had publicly apologize to the victims of their son and hope that their son gets sentenced to death because his actions could not been repared. Even though there was a public apology the parents and family members of the four dead victims are hoping for the apology to go to the victims in the thumb and not to the family members. In a news report of the family and friends of the four victims they blame the parents for their son's reaction and that the parents could of given him a better education. The only thing there is to do is wait to see what the judge decision is about the life of Cheng Chieh,  only to hope justice would take place so  the victims can rest in peace.
Leave a Comment