By: Karina Gonzalez, Mitchelle Aguilar, Daniela Ramos
APB students see various smoke shops as they walk home everyday. After the 2016 November election, Proposition 64 seemed to have Californians in debate whether marijuana should be legal in the state. At the end of that night, the state of California decided marijuana should be legalized. A "yes" vote for prop 64 would have meant that recreational marijuana is available for anyone who is 21 years or older and establishes sales and cultivation taxes. Smoke shops are currently not allowed to sell recreational marijuana to anyone without a medical card. Yet, the amount of smoke shops that have popped up has increased, as the amount of people who now consume marijuana.
Like everything there are pros and cons of having such high amounts of places
where one can legally purchase marijuana.  Some students at APB agree that Prop 64 will help the state of California and all the people in it. Junior, Christopher Vasquez, believe that it is beneficial "people that might use it for proper medication." Students realize that in this era, almost anyone can get a hold of marijuana without having a medical prescription for it.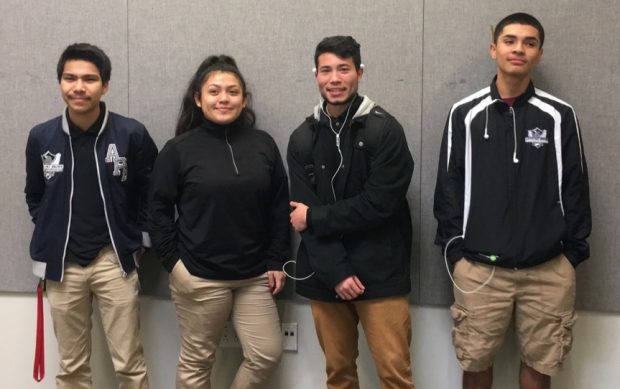 When asked about the expansion of marijuana dispensaries, CSO, Mr. Garcia, says, "Teens have more access to it, so it makes it more normal." This expansion essentially creates a normalized perspective on dispensaries and marijuana in general. However, the fact that students see marijuana as normal creates inclination for younger teens to not only see but want to try it as well. In turn, this negatively connotated drug would essentially destroy parent and child relationships for the way in which it is perceived. Prop 64 shows that marijuana's acceptance in society continues to increase but that does not mean that it will be the same in schools and homes.
Senior, Carlos Rodriguez, explains that with the legalization of marijuana the economy will be helped "by bringing millions of dollars in revenue." Since marijuana has been legalized, there are many theories about marijuana having a  very high taxes entering 2018. He also mentions another positive notion from legalizing marijuana is that it would, "decriminalize the act of smoking or being in possession of weed." As of right now, thousands of individuals have been and are incarcerated everyday for possession of small amount of marijuana. People who have no means of hurting or endangering those around them have seen vicious sentences for minor offenses. One DC man who had been paralyzed since the age of four, saw his last days in a jail cell for not having the proper medical card required after being arrested for marijuana possession. This man, Jonathan Magbie, was accustomed to at least 20 hours of care daily and in a cell, he was getting the exact opposite. With no ventilator or medication to sustain his breathing, he died after only serving 4 days of his 10 day jail sentence.
The legalization of recreational marijuana is a very controversial and debatable topic, regardless of what we believe in in the great state of California marijuana is legal and facilities that provide it will continue to emerge.