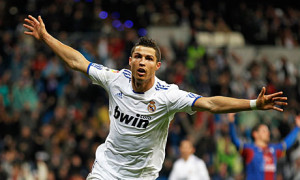 The Professional soccer player from Portugal, Cristiano Ronaldo, has won the 2013 ballon d'or thanks to his astonishing performances in his fellow Football Club; Real Madrid.
"First of all I have to say a great thanks to all of my team-mates with the club and the national team," he said. "Without all of their efforts this would not have been possible. I am very happy, it is very difficult to win this award.
"Everybody that has been involved with me on a personal level I have to thank. My wife, my friends, my son. It is a tremendously emotional moment. All I can say is thank you to everybody that has been involved." (C.R.)
With Cristiano's second win at the ballon d'or this year, he has been able to kill the 4-year streak of a fellow rival who is now the second best professional player in the world; Lionel Messi, who is in FC Barcelona in the Spanish league. Messi has been able to achieve the Ballon d'or for 4 years in a row, since 2009. The last time that Cristiano Ronaldo has been able to achieve the Ballon d'or was in the year 2008 before he had joined the spanish league into football club Real Madrid. At this time, Cristiano was in FC Manchester United in the English league. With his performances with Manchester United, he was able to win the Ballon d'or. The following years up to now, the top 3 nominees that had a chance to win the ballon d'or were Cristiano Ronaldo, Lionel Messi, and Frank Ribery.
Frank Ribery, who is currently in the German League with FC Bayern Munich, had a chance to compete with the top two professional football players in the world, with Cristiano and Messi. Unfortunately for him, he has not been able to take the ballon d'or home with him just yet. Ronaldo has been able to perform better than his fellow rivals and will have a chance to continue earning the ballon d'or trophies if he keeps up his skills. This loss for Messi and Ribery will make them both strive for improvements in their play.
I personally believe that Ronaldo deserves earning the ballon d'or, due to his outstanding performance in Real Madrid. If you have any comments on Ronaldo's trophy, feel free to share.
Clicking on this link will take you to Messi and Ronaldo's response to earning the ballon d'or.
Cristianohttp://http://espnfc.com/news/story/_/id/1680105/cristiano-ronaldo-named-ballon-dor-winner?cc=5901