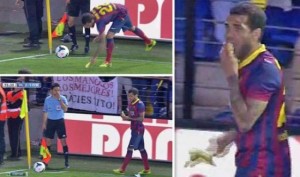 During the soccer match between Barcelona and Villareal, Barcelona's defense player Dani Alves was about to take a corner kick, when somebody from the Villarreal crowd throws a banana at him. He then picks the banana up and eats it. From the comments that we acquired from a YouTube video we saw, many seem to believe that it was an act of racism. According to many of these anonymous comments, they claim how Dani Alves is compared to that of a monkey. One of these comments say, "Spain's white monkeys hates brown and black monkeys.   They hate them so much they threw away their food!!!" By the looks of it, and all the other comments, most support the reaction Dani Alves took, by eating the banana. They portray his character now with respect, going by the theme of; Saying No to Racism. It is said that the person who tossed the banana toward him was arrested and fired from his job. We cannot be so sure of this source, however. Many say that he handled this situation the best way by eating the banana.
The video of Dani Alves' reaction to the banana thrown at him can be found here: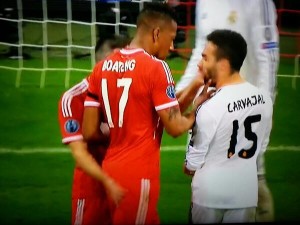 The tension in sports worsens with one the recent game of the Champion's League with Football club Real Madrid vs FC Bayern Munich. Left Winger Frank Ribery in FCBayern was caught slapping Real Madrid's defense player Carvajal. While defense player Boatang in FCBayern was trying to break apart the aggression from both of these players, Ribery takes a swing toward Carvajal's face.
Here you can find the youtube video.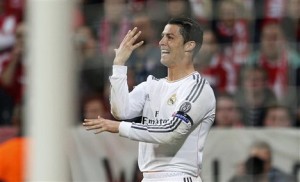 Real Madrid ends up winning the Champion's League match with a score of 5-0. Star-player Cristiano Ronaldo also finishes the match with having broken Lionel Messi's all-time record for the most goals in a single Champions League season after scoring his 15th score. It was truly a great victory for Real Madrid.
Here you can find the youtube video.
By Jonathan Lemus & Joana Osorio