The  year is wrapping up for everyone here at  Ánimo Pat Brown with just a week left of school many activities are happening specially for the class of 2014! As we all know the seniors big day (graduation) is just around the corner, but they are all leaving a legacy behind with the senior portfolio presentations. The senior portfolio presentations allow seniors to reflect on their hard work and growth in these past four years and explain how it will prepare them for their future and college. You might be wondering, "well how can they know if they're ready ?" This is where the famous ESLRS come in play.
You might have never noticed that on the third page of your planner there these expectations known as ESLRS which is what is expected from Animo graduates. As Animo graduates we must learn to be self-directed individuals, critical thinkers, academic achievers, life-long learners and effective communicators. For the past two years the senior portfolio presentations have been part a part of graduation requirement and teachers and staff are hoping it stays a tradition.
The Portfolio Presentations consist of seniors reflecting on how they've grown in regards to the 5 ESLRS. They collect 5 assignments, each assignment representing their  proficiency on one of the  standards. Once collected they write a culmination reflection which consists of questions regarding the standards, their experiences, and their plans for the future. After that they are split up into groups and sent to present all of their information to a group of APB teachers, visitors, and a junior student.
For many students this has be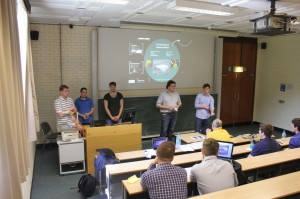 en an emotional experience as it reminds them of the hard work they've dedicated here at APB and marks their transition into the real world. Here's what one student said in regards to the Portfolio Presentations. Marcos Hernandez shared, that he was glad to have the presentations despite the fact that he did not achieve as much as he wanted in his academic career. Another presenter, Amairany Cartagena, said that she found the presentations useful because it allowed her to realize what she needed to improve on in terms of public speaking. She enjoyed the fact that she was able to proudly present her accomplishments to her community. For future seniors, Amairany recommends that they present their work confidently and proudly as well as to speak clearly, openly, and genuinely.
As a senior  i wish all the future seniors the best in senior year and in college. Senior year is stressing specially with all the college applications but try not to stress about it and enjoy every class, every moment in Pat Brown because in the blink of an eye it will all be over. Don't get to overwhelm with today because tomorrow is still to be discover.