Stabbings in Pennsylvania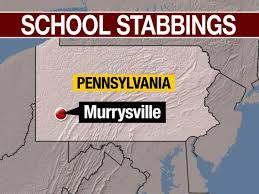 On Wednesday, a teenage boy went on a  killing streak in Murrysville, Pennsylvania, stabbing 19  students and 1 adult. The school day was about to commence when numerous students witnessed a student of about 16 years of age baring 2 weapons, in this case, knifes.
Multiple individuals had their own version of their experience take for instance, the story of Michael Float,  "I saw a pool of blood in front to my right, with a coffee mug there, and I was with my friend." "We walked to the left there was blood right where the double doors are all over the wall. I saw my friend towards the front of the school where the office is, with his shirt up, looking into the offices, screaming, "Help, help. He had a stab wound on his stomach, bleeding down" (WTAE.com).
According to Dr. Mark Rubino only seven victims were in stable but in extremely critical conditions. In addition, according to a partner surgeon, 3 of the 7 victims needed surgery. It is even said that these victims did not feel the attack for they were too frightened that all they thought of was to flee. Fortunately, the stabbings punctured no major organs. The accused suspect has been distinguished as Alex Hribal, a sixteen year old junior. Luckily, he was stopped by a vice principal and later the authorities arrived to deal with the unstable teen. According to JDJ journal,  Hribal was at the Westmoreland County juvenile detention center and is being held without bail. Officers would not offer a motive for the attack, but said Hribal made"statements when subdued by officials that he wanted to die."
APB's Response: Animo Pat Brown student, Jasmin Barreras believes that Alex Hribal should be given jail time up to around 25 years because although he did commit an atrocious deed,he did not kill,only critically wounds For the families, she states that it is only fair that there are charges pressed,but nothing over a 25 year sentence and charges for attempted murder.
Arturo Arroyo: He believes that it is better that  Alex Hribal is kept in a juvenile center because if he is kept in a jail. It will result in  only increasing his rage and hunger for destruction. The best thing to do is to move on and console with other families that have gone through similar experiences. Also, to look for programs that will prevent this type of event to ever occur ever again.
According to Margarita Serrano Alex Hribal should be placed into a mental institution until he is once again believed to be stable. She also believes that charges should be placed in order to try and alleviate the damage done to the families.
Leave a Comment