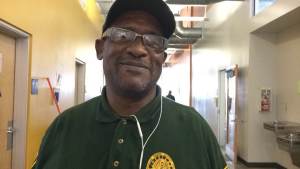 Who would have known that our own security guard Darrell Daniels is a rapper/producer. When he raps he goes by the name Dnasty. He began rapping in 1976 and still to this day continues too. He doesn't rap alone though, he raps with his daughter and produces beats for her. He was part of the Penthouse Players Clique, which in those days rap was barely beginning to be a thing. The Penthouse Players Clique played a big role in the influences of rap in the way that drugs and crimes were something that was becoming highly popular at the time. It was known as "the thing" which people referred to as a hit. After years of rapping and producing, he met many people who weren't famous at the moment like Dj Quik & Eazy E.
It didn't take him that long to realize that he was capable of being someone recognized and have the opportunity to move his way to success.  However, he made decisions he should of not made by being able to go on by himself instead of depending on his team which didn't lead him anywhere. He knew he should have done something about it, just when he was about to, he had a family tragedy which affected not just him and his family, but, his career which was on the line. At the time, he had to put his career on hold due to a set of unfortunate events that made everything come crashing down for him, which was his house burning down and just a week later ,his father passing away. Little by little, he was able to get his family back up on their feet and managed to get a job. Although he wasn't able to make it, he continues to try to help her daughter make it big. He says he might not be there yet but his daughter isn't that far (Dnasty).
One of the things that stopped him from becoming a big thing was what they wanted him to rap about. He had to rap about drugs and girls in a bad way. He believes that because rappers rap about those things people they should be them. For example, when rappers rap bad about girls, girls begin thinking thats how they should be but they shouldn't. His message to youngsters now is to do whatever you can to have your voice heard (Dnasty).

If you want to see one of their music videos look below or you can look him him up on youtube as "Dnasty".
https://www.youtube.com/watch?v=Qp4g_S-ONC4