At ÁPB there are many students who have different taste on genre's in music but yet many agree on the same likes of genre's. Survey taken by ÁPB students of different grade levels showed that some of the 10th graders favor Hip Hop/Rap ,Rock/Metal and Corridos. The 9 th graders favor Rock/Metal, corridos and R&B.
11th graders and 12 graders favor R&B, Rock/Metal, corridos, and Hip Hip Hop overall we can agree that all grade levels fall in the same genres catagory.
Some of the artist including rock bands are Linkin Park, System Of A Down, Asking Alexandra, Metallica, 30 Seconds to Mars, Secondhand Seranade, Paramore, Pierce de Veil etc.
Another artist are Gerardo Ortiz, Larry Hernadez, Roberto Tapia, Voz de Mando, El Komander etc. which they fall in the genre of Corridos.
Artist that fall in the R&B category are Usher, Miguel, Bruno Mars, Trey Songz, Rihanna, Justin Timberlake, Frank Ocean etc.
The last popular genre at ÁPB is Hip-hop/Rap and the artist that the students favor are Tupac, Eminem, Drake, Tyga, Wiz Khalifa, Snoop Dog, Jay-Z, and Kanye West.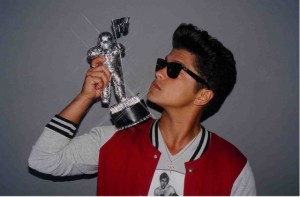 Bruno Mars is well known for fitting into many genres like Jazz, Blues, Reggae, Soft rock, R&B, etc.
It is also considered a way to relax and bring people to solitary and contemplation but also bringing people together.
Music has become so huge that has been many foreign artist coming to the United States influencing not only their music but also their style.
For example, One Direction that came from England have many American fans which have develop their style by putting British symbols on American products such as clothing, make-up, accessories etc.
It's not necessary to buy their albums anymore since it's easier to download their music from iTunes, You tube, and Tubidy.
Overall, music seems to bring different cultures together and influence the way society behaves.