By: Michelle Gomez
There is a new law in Oklahoma that will allow teachers to carry guns in school. Only teachers that
were chosen by the school district will be allowed to carry a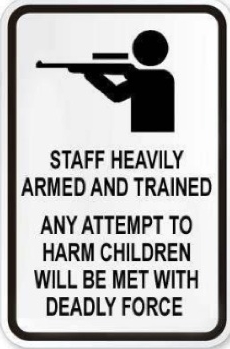 gun to school.
It is up to individual school districts whether or not to allow staff to carry weapons. Twenty eight states will allow adults who legally own guns to carry them in schools this fall. They require that teachers have a licence and proper training.
Some students in Animo Pat Brown believe that it is not safe for teachers or staff to carry guns in school.
A student in APB believes "Having guns is a huge risk and the gun may be found by a classmate that is mentally sick and cause a worse situation in school". She also mentioned that she would not feel safe even if the teachers are trained because having guns in school property is unsafe.
Jennifer Benitez, a senior in APB also believes "The issue is that teenagers are not really responsible and having a gun in the room is completely risky".
Some students in APB believe that even if teachers have proper training, "there should be patrols protecting the school". If the school were in a situation where guns were needed, she believes that it is not the teacher's job to carry guns in school and instead should be used by someone whose job is to protect students.  
While some students might believe teachers should not carry guns, other students believe that although there may be risks "I suppose it sounds like a good idea since they are able to protect students" said Jennifer, "but I think they should first be evaluated mentally to make sure they are good to use".
Guns in schools can protect students while at the same time provide other risks that can threaten the safety of students.