By: Karina Gonzalez, Daniela Ramos, and Mitchelle Aguilar
November 8th brought anxiety to those in our community. Staff and students at Animo Pat Brown,were filled with sad faces and regret after the majority of the country elected Donald J. Trump as the 45th president of the United States. While students were thinking about their families, teachers and staff were trying to get their own feelings together and ready to face their  liberal students, who not even for a second believed he would actually win.
The building tension when all the states were going in made students anxious. Junior Jonathan Gonzalez "was shocked because everyone, even my teachers, were talking about  'I think this is the day Hillary Clinton is going to win,' I was shocked that this man had a chance of winning." Students in APB were very shocked when states started to show their support for Trump, all the build up toward the election everyone seemed to support Clinton. Elsey Lima, felt "upset" when she saw that Trump was in the lead. Jocelyn Carranza was "not happy…. I was thinking 'why are people being so stupid for voting for him', I was very disappointed." Students were feeling a variety of emotions knowing that many people supported Trump.
When Trump was announced president-elect, students' hearts dropped. Se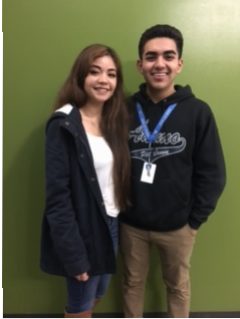 nior Frank Rosales was "mad" he believes, "Trump was just a joke, it was an easy way for Clinton to win." No one was expecting Trump to actually win the election because of all he said throughout his campaigning. Karen Plascencia was "disappointed and betrayed by half the country." Students not only felt states who voted for Trump turned their backs on all those Trump will affect. Knowing that 29% of hispanics voted for Trump angered many students, they only voted for him because "those 29% might have been citizens" says Jonathan Gonzalez. "Having hispanics vote for Trump was so ironic," says Diana Aceves, "we are the ones who will be most impacted with this presidency if he does what he said he would." Students felt betrayed and angry at Hispanics who voted for Trump.
Minorities expect Trump's presidency to be full of hate and disappointment. Junior Jocelyn Carranza believes the Trump will "lead us in a selfish way." Not only do students believe Trump will lead the country in a way that will only benefit himself, Jonathan Gonzalez says Trump "has the ability to impact everybody's lives if he follows through with his plan of deporting immigrants."
Diana Aceves, senior at Animo Pat Brown, shares when she walked into her first period, "Mr. Pickering brought tears to student's eyes when he apologized on behalf of his generation for letting us down…" Students were moved by the way the teachers reacted, they were very supportive.
Trump does not have any political experience, he does not seem to know how the government works. Students are expecting Trump to fail, to lead the country into problems. As a community, we will stick together to keep each other safe and strong.