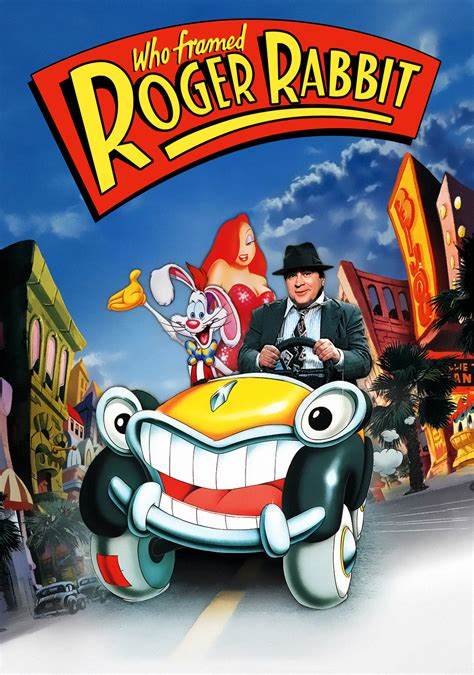 By Jennifer Leon
In the hit comedy 'Who Framed Roger Rabbit?" directed by Robert Zemeckis, it's quite obvious this story is reminiscent of shows from back in the 1980-90's. The style of the movie gives you a sense of nostalgia as it opens with a picture to an episode, somewhat similar to how "Tom and Jerry" opens.
The plot of this movie starts off by introducing the two main characters. Roger and Eddie, our protagonists, meet after Eddie takes compromising pictures of Roger's wife, Jessica Rabbit, playing patty cake with another man, the owner of Toontown. He later ends up dead and everyone blames Roger as this happened after those pictures were made public.
Along the way, Eddie teams up with Roger to try and solve the mystery of who is trying to frame him. The whole experience of solving the murder helps Eddie refall in love with toons again after the incident that caused him to lose that love in the first place.
Now I had never watched Who Framed Roger Rabbit but I always knew it was a beloved movie from friends and family. Many of them had watched the film in their childhood and have fond memories of it. As soon as I mentioned I hadn't watched it, they all told me I should.
Going into this movie, I already had a positive feeling since I had heard so many positive things about it but I also went into it wondering if I would like the movie since it seems targeted at a younger audience.
I can say I was pleasantly surprised to enjoy the movie as much as I did. The characters all worked together perfectly despite it being animated in a real world setting and it was interesting to see how these animated characters and people coexisted. Of course this meant that a lot of cartoon logic was followed but that just added to the overall experience of watching this film for the first time.
One of my favorite scenes in the movie had to be the car chase where they are escaping the police. There were a lot of good lines that got laughs out of me; and the composition of the scene was fun to watch.
Overall, I really enjoyed the movie and don't really have anything negative to say about it. I would really recommend others, who like a mix of comedy and mystery, to watch this movie. I have to say it's one of the best movies I've watched in a long time.